Micro phototherapy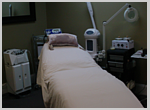 We have just introduced MicroPhototherapy here at Kim's Studio. Treat yourself to a complete MicroPhototherapy treatment. In 8 sessions you can enliven your skin with a gentle lifting effect, as it helps to even out skin tone by diminishing sunspots, acne, freckles and molten skin. MicroPhototherapy uses LHE (Light and Heat Energy). LHE is a dermatologist recommended technology that works deep under the skin to recapture an even, clear and firm skin tone. Like laser, LHE treats the skin with therapeutic light energy. Unlike laser, gentle waves of heat work together with light, removing acne, age spots and uneven skin tone with no down time and virtually no discomfort.


LHE treatment stimulates collagen to firm and tighten the skin, decreases pore size, evens out skin tone, and delivers glowing results. It leaves the skin feeling and looking younger with no recovery or downtime. For optimal results, we recommend a series of 8 treatments within 4 weeks.


Skin Rejuvenation & Collagen Renewal
Skin rejuvenation can be divided into several categories; the removal of pigmented lesions, the removal of vascular lesions, the improvement of skin texture and tone, and the smoothing of lines and wrinkles. A comprehensive skin rejuvenation treatment may simultaneously include several of these goals. Although LHE employs a singular treatment type for all skin rejuvenation elements, the underlying processes that bring about the results are different.


Pigmented & Vascular Lesions
LHE is particularly suited for effective and lasting treatment of pigmented lesions.


Skin Tightening & Wrinkle Reduction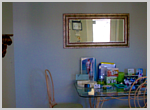 Periorbital wrinkles and skin laxity are the first, most noticeable signs of facial aging. LHE Skin Tightening is pain-free and clinically proven to improve these effects. Skin appears firmer, smoother and younger asit loses its laxity and wrinkles fade, creating a natural lifting effect.

Infrared light penetrates deep into the lower dermal levels and sets off a mild dermal trauma to initiate a wound/heal response. The collagen found in these levels responds with new growth, returning firmness and elasticity to the skin. Results are often visible as early as the 5th week and continue to improve with time.

Acne Clearance
Micro-Photo Therapy delivers fast, safe and sure acne treatments. As a localized treatment modality, LHE clears mild to moderate acne without harsh systemic antibiotic treatments. In clinical studies, subjects noted significant improvement in their acne within the first 2 weeks--lesions cleared faster and outbreaks were milder.
Microphototherapy Treatment
Per Treated Area ........................................$100.00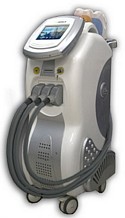 . . . Not only are patients responding, but they are remaining clear during the follow-up period, which is three months so far. And they are doing well during these three months. Although the final numbers are not in, it appears that we are clearing between 50% to 60% of the really bad acne."

Michael Gold M.D., Dermatologist, Nashville, TN . . .

LHE phototherapy has shown an excellent safety profile for skin types I through VI, and consistent results for pigmented and vascular lesions, primarily with reduction of unwanted pigment and improvement in the appearance of fine lines and wrinkles
Gregory Zella, D.O.
South Coast Center for Plastic
and Reconstructive Surgery . . .