products
Unique topical vitamin C containing multiple vitamin C derivatives and unique botanical extract (bioflavonoid). No tingling, no dryness and compatible to all skin types including delicate eye area. It helps prevent/repair sun damage, hyper-pigmentation and improve skin tone.
Combines vitamin P, vitamin K, grape seed extract and some herbal extracts to achieve a powerful synergistic effect for prevention and reversal of broken capillaries, spider veins and associated redness.
A unique rejuvenating eye treament in a clear gel form to reduce puffiness and lessen the appearance of dark circles around the eyes. Rejuvi "i" utilizes yeast extract, alpha-lipoic acid and DMAE to strengthen the skin's natural immunity and biotin at high concentrations to enhance the skin's elasticity. Rejuvi "i" also incorporates a unique aqueous polymer and water soluble jojoba oil to provide superior moisturization without stickiness. Regular use of the gel twice a day will bring noticeable improvement to the delicate skin around the eye area.
Containing 98% pure aloe vera and chamomile extract, Rejuvi "h" Skin Healing Gel effectively soothes and calms facial and body skin requiring special care. Wonderful for sunburn, windburn, mild skin irritations, chapped and dry skin, even insect bites. In addition, Rejuvi "h" is beneficial for skin recovering from aggressive treatments such as AHA or peels. Because it contains no oil, this is an ideal daytime moisturizer for very oily skin or skin requiring minimum moisturization. Those with sensitive skin may use under their day or nighttime treatments to lessen discomfort or irritation.
Combines magnesium and titanium dioxide, representing the latest sun protection technology. The combination of the physical and non-PABA organic sunscreens allows for maximum reduction of free-radical generation under sunlight so that the Sun Block has much less aging effect on the skin.
Utilizing multiple mechanisms in "w" Skin Whitening Cream, a liquid toner formulated for flexibility and convenience.
Consists of lactic acid, natural salicylic acid and papaya enzyme. It can be used for multiple purposes with different application methods, such as gentle skin polishing to improve wrinkles, full facial peel, or to diminish scars or acne marks.
These products combine the lypofilic agent,Theophyllisilane, with herbal extracts, to achieve effective control for facial contouring such as eye bags.
Consists of lactic acid, natural salicylic acid and papaya enzyme. Treatment with this product is a unique way to achieve excellent skin improvements without visible skin exfoliation. Along with improvements in elasticity, skin tone and skin smoothness, reduction of wrinkles are a major benefit of this product
Vitamin A is referred to as a normalizer that could reverse skin abnormalities including pre-cancerous cells. In addition, vitamin A is one of the most powerful anti-oxidants.
Retinyl Serum contains highly concentrated vitamin A Complex which includes retinol (natural vitamin A), retinyl acetate and retinyl palmitate. This unique vitamin A complex promotes collagen synthesis and elastin production.
Combines a 3-step mechanism to sterilize acne bacteria, remove sebum plugs, and inhibit hormones that cause excessive oil production.
A gentle-acting cream designed for inflamed blemish skin (severe breakouts). This version can quickly soothe and calm affected skin.
Enhances Rejuvi Normalizing Cream in a penetrating aqueous formula.
Contains precious pearl powder and multiple anti-oxidants in an air-tight vial to preserve maximum potency. It provides an immediate improvement in skin-tone in about 30 minutes.
A unique non-hydroquinone treatment designed for professional use. It utilizes the most advanced anti-pigmentation technologies.
This is a special cream designed to remove dead skin cells and provide a cosmetic whitening effect during massaging. The scrubbing is achieved by fine jojoba ester beads which are natural and safe for skin. The cosmetic whitening effect is achieved by fine titanium dioxide.
Combining precious jojoba and avocado oils, Rejuvi "m" offers excellent lubrication for a serious facial massage. Incorporating aloe vera oil and vitamins, Rejuvi "m" helps the skin's natural healing process and provides nourishment. A significant concentration of GLA (gamma-linolenic acid) is the prominent feature offering essential nutrition and body metabolism. GLA is extensively reported to help relieve many common premenstrual syndrome symptoms (e.g. bloating, breast tenderness, even irritability). Rejuvi "m" Massage Oil is the first massage oil that incorporates this valuable incredient for topical delivery.
A very safe and effective body treatment to reduce unwanted cellulite and fat usually on stomach, hips, thighs, upper arms and calves.
This lovely mineral based oil-free cream provides long lasting moisturization with a relaxing scent.
(Clearing and Refining)
Deep cleansing is assured with this gentle yet effective mask. Rich in papain enzyme for skin exfoliation and sulfur for skin softening, this mask is especially effective for rough blotchy skin. Those with oily skin will find this mask especially beneficial. After using this mask, the skin will become smooth, clear and lighter to some degree. Recommended use: twice per week.
(Refining and Revitalizing)
An all natural mask bringing soothing care to all skin types. Aloe vera, ginseng, summa, witch hazel and chamomile extract are the key ingredients providing superior skin healing, desensitizing and refining. Additional benefits include an immediate radiance and glow to the complexion. Recommended use: twice per week.
(Refining and Nourishing)
Especially effective skin nourishment is provided through the abundance of highly refined vegetable extracts, proteins and liposomes. After treatment the skin is left feeling soft and silky with a noticeable improvement in skin firmness. May be used for all skin rypes. Recommended use: twice per week.
(Intense Moisturization)
A non-clay mask designed especially for very dry and sensitive skin, this mask helps ease the tightness and flaking usually associated with these skin types. Using high concentration of sorbitol (from ripe fruit, seaweed and algae), this mask drenches the skin in moisture and vitamins. Through the incorporation of lecithin, Rejuvi scientists have discovered a way for the body to use its own supply of fat to combat dryness. Additional ingredients of summa extract – "Brazilian ginseng" and allantoin are also beneficial to skin hydration. Regular use twice a week will provide significant hydration for dry and sensitive skin. May be used by all skin types when intense moisturization is desired.
(Exfoliating and Renewing)
A non-clay mask which contains concentrated Papaya Extract, AHA and BHA, providing gentle skin exfoliation to remove surface debris and promote skin renewal. Especially recommended for those with oily skin, acne and aging skin. The skin will become smoother and brighter just after a few treatments. There might be a slight stinging sensation in the first few minutes after application. Discontinue the use if a significant discomfort or irritation develops in first few minutes. The retention time is usually between 5-20 minutes depending upon the skin tolerance. Rejuvi "h" Skin Healing Gel is recommended to be applied right after the removal of this mask.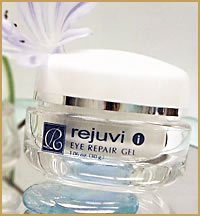 Rejuvi. Science that works!

Note: All Rejuvi products can be purchased locally at the studio, or online at RejuviSource.com